A B C D E F G H I J K L M N O P Q R S T U V W X Y Z
Alula mix från Scen 2 ur Pygostylia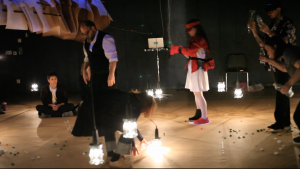 Ba-ro-me-ter
Version 2 for piano solo with fixed media. First performance 22 March 2018 at Fylkingen, Stockholm by Kristine Scholz.
The electronic part consists of some of the earliest recorded sounds from the mid 19th century, used under CC from firstsounds.org

Boom-choff-leuit
3-4 amplified flutes with 6-8 co-players
The thought of three flutists (or more) playing together has always given me kicks. There is something about flute that is a bit geeky, whimpy and uncool. Like the opposite of hardcore. I wanted to change that and give the flute tools and surroundings to come out as that party-flute it used to be.
DadoDado
Solo guitar and object
One of my most played pieces, performed by a.o. guitarists Mårten Falk, Magnus Andersson, Mats Bergström, Nico Couck, Thea Vesti Pedersen.

Det brister en sträng
4 electric guitars
Inspired by a religious tune from J.A. Hultmans Solskenssånger as sung by Artur Eriksson. (A string bursts)
Played and commissioned by Krock
score
Est-ce que vous croyez aux fantomes?
A dance performance by Sebastian Matthias for Corpus/the Royal Danish Theatre.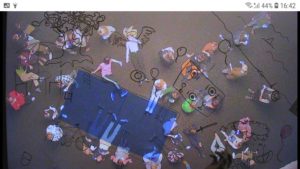 Ghosting (from Ghosting)
Trolls (from Ghosting)
Halusin
As a swede it is fascinating to live next to a country with a totally different language as Finnish is to Swedish. Still I have through the years picked up a few useful phrases from shampoo-bottles, electric heaters (the classical Ei saa peitää – do not cover), chewing-gum packages and helpful friends. By chance I went with Finnair when composing this piece, with a stop in Helsinki airport Vantaa. There, in a record shop, I found the two famous finnish tangos which Halusin is built on ; Unikuva (the Dream) and Satumaa (Fairytale Land). (I wanted)
Han
A cutup piece inspired by the worship of (a male) God. (He)
live performance by Ida Lundén
Ida Lundén and Ikue Mori
Live at Issue Project Room 2011-12-03
Klocka med Micro/Bell with Micro
Ida Lundén bells, baking form, music boxes, water, sound. The sound was recorded at the mountain Schönberg outside Freiburg, Germany.
Performance by Magdalena Meitzner at festival Svensk Musikvår March 2018

Murgi Utha
Ivo Nilsson Trombone, Jonny Axelsson Percussion, Ida Lundén Electronics, Syntkretsen Mechanical objects, Synthesizers.
Orgel
Orgel is a visual installation and a musical piece, where the visitors are the orchestra and a part of the performance. It consists of nine hanging organs, each has its own sound, just like a pipe organ. It is about a playful exploration of materials and sounds that are made in a non hierarchic way together with the audience. Together with Johanna Mårtensson.

R®(r)
A soundplay about the letter R.
Commissioned by the Swedish Radio P1 and P2. Text by Pär Thörn, Music by Ida Lundén.
Songs My Mothers Taught Me
Cello and electronics. 100 years ago the recording facilities weren't as common and accessible as they are today. Luckily some of the recordings from that era still exist.
Composing music for the cellist Hanna Dahlkvist I wanted to give her an enclosing string orchestra of ancestors, a warm embrace of forerunners. Female forerunners. Digging deep in the archives I found instrumentalists and composers who were famous and successful when they were active. Names like Beatrice Harrison, Guilhermina Suggia, Renée Chemet and others.
This piece is a celebration of all these women, of all the mothers before me, and of all the songs still to be sung.
Sorgla
Saxophone quartet. Inspired by the Swedish hymn "Sorgen och glädjen" (sorrow and happiness).
Played and commissioned by Stockholms saxofonkvartett.
Spänst åt alla (vigour to everyone)
Sit down gymnastics with the voice of Princess Birgitta of Sweden in a cut up piece for live-electronics and armchair.
Susa Donker Low
8 bass singers and 4 double bass players from the Swedish Radio Choir and the Swedish Radio Symphony Orchestra. Text from a multi language encyclopedia of music words.
Transire
Music composed to a film by Jöns Mellgren. Sounds and concept inspired by entoptic phenomenom phosphene that occur during the first stage of trance where the brain creates images of concentric circles, parallell lines, spirals etc. Jonny Axelsson percussion, Ivo Nilsson trombone.
Tyskamossarnas sugluft
Commissioned by Klang Festival, Copenhagen and Uusinta Ensemble. Malla Vivolin – flute, clarinet, piano, viola, cello, double bass, fixed electronics.
Dance performance by Sebastian Mathias, Stadtschauspiel Dresden
Vedutawarning (from Veduta)
New Galopp (from Veduta)
Florence Echo (from Veduta)
Vingring
Mårten Falk guitar and Anna Lindal violin.